Click on photo for larger view
Click on photo for larger view
"I recently purchased a Case-Mate Tough case for my new iphone 4s and am very happy with the product overall. It is a three part case, with a screen protector, rubber or silicone piece and then the hard plastic shell. The case comes with instructions, a cleaning cloth and a smoothing card for the screen protector but I still had trouble with it. You have one chance to get it on right and mine ended up with bubbles and scratches. Steady hands required! The soft piece is great and the hard shell snapped on perfectly, fitting my international version iphone properly and allowing access to all buttons. It looks sharp and feels great in the hand. Much less slippery, and more "skookum" with a little bit of extra weight and thickness without being bulky. It doesn't stick in my pocket either, I can pull it out/put in it easily. I use it frequently throughout the day and it's holding up well. I have tried to be gentle with it and have not dropped it, but it does feel like it offers some protection against every day abuse.
The colors are quite a bit darker and richer than I expected, showing more like navy and green, but that may be due to my monitor settings and the product surface which is quite shiny. With that in mind, I would probably choose the same design again but in the grey version." -Susan
BUY THIS PRODUCT NOW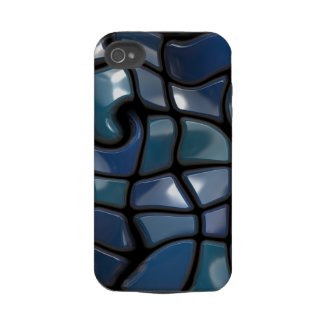 See more product reviews here.