Click on photo for larger view
Click on photo for larger view
"I just received the t-shirt and button pin I ordered from Zazzle and I am so excited to have them! The t-shirt style is a ladies baby doll shirt, made by Bella. It says on the product page that sizes run extremely small and to order 1 to 2 sizes larger than normal. Well, I ordered the small and since I'm on the tiny side it fits just a teeny bit big on me (so it's good that I didn't order larger). The quality of the t-shirt looks very good and it is very comfortable to wear.
The design itself says, 'Yard Sale Queen' on it and shows an illustration of a crown. The printed design looks great and turned out really well. But I have to mention that on Zazzle the design appears to be more of a hot pink. But when I received the t-shirt the design on it looks more like a rose pink. As I said, it still looks Great! But it's not quite what was expected. I'd recommend that anyone ordering print on demand products to be aware that the colors you see on your screen may not be quite what you will get on the finished product. (This is due partly to all computer monitors showing colors differently than other monitors, printing methods and inks, and the product the design is being printed on.)
The design also looks quite large, but I think that has a lot more to do with my small frame and that I ordered it on the smallest size than anything else (if I had a figure more like the model on Zazzle the design might look more proportionate).
The pin is pretty cool as well. It says, 'Cash Is Queen' on it and has an illustration of a crown. The colors also are slightly different than what is shown on the website (a little bit darker), but not as much as the t-shirt." -Sharon C.
BUY THIS T-SHIRT NOW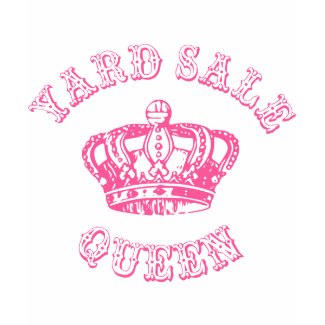 Yard Sale Queen
by
eclecticdreams
BUY THIS PIN NOW
See more product reviews here.