Click on photo for larger view
Click on photo for larger view
"I have a variety of photo prints to do a review on. The first one, titled 'Worlds' is an abstract print featuring 3 planets (not actual planets in our solar system). The artwork on this print is done magnificently. If I hadn't known it was someone's personal artwork I would have thought it was a photograph taken by NASA. The printing of this was flawless. The background is a nice dark black (it looks a little washed out in the photo because of the lighting) and the planets have a shadowed effect that makes it look so realistic.
The next three prints are titled 'The Drain,' 'Color Love 2' and 'Red Fallen in Blue.' Each of these prints feature different colors of beautiful swirls. 'The Drain' is a combination of purples, green and pink. 'Color Love 2' (which is probably my favorite print) is a combination of purple, green, orange, yellow and a hint of blue. The last print, 'Red Fallen in Blue,' is a combination of red, blue and a hint of white. Each of these printed darker than the display and are a lot more vivid in person.
My plan for these prints is to buy matching 4" x 6" frames and I will hang them on the wall in a square pattern."
-Jasmine W.
BUY THESE PRODUCTS NOW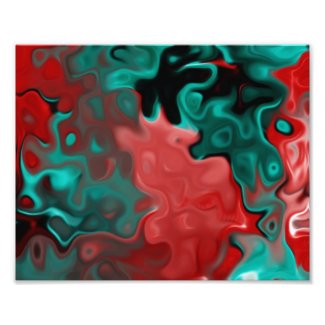 See more product reviews here.