Click photo for larger view.
"I didn't have to do too much searching before I found this adorable cake topper. Actually, there weren't many options available for a 1st birthday cake topper with a horse on it. I'm so glad I found this one because it was perfect! At first, I had bought it thinking I might bake a cake for my niece's 1st birthday and use this to decorate it. I then decided to do cupcakes so that I could do a couple different flavors. I bought a cheap cupcake tower and put this together pretty quickly. It was a big hit! I would definitely buy more cupcake toppers from
Zazzle
. The printing was absolutely beautiful and the product is sturdy. My niece played with it and threw it around all over the place before I even got to use it for her cupcakes. I think it's safe to say it's probably baby proof. :) It's also a really nice souvenir for her to have from her 1st birthday."
-Jasmine W.
BUY THIS PRODUCT NOW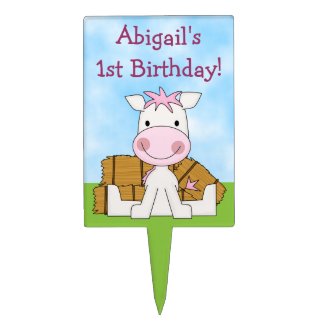 Personalized 1st Birthday Horse Cake Topper
by
TheCutieCollection
See more product reviews
here
.