Click on photo for larger view
Click on photo for larger view
Click on photo for larger view
"Since hubby had just bought an iPad , he needed a case for it! We decided on this vintage photo of a motorbike, car and soldiers outside a hotel in France, c 1910, on a Caseable iPad Folio case. Although express shipping to Europe was expensive, the speed of delivery was incredible. It was ordered on the 2nd and arrived on the 7th! I asked him to be super critical of it, but he couldn't find anything bad to say. The case is well made, has a nice soft textured feel, the elastic holds both the iPad and the case shut securely, and the case also acts as a stand. The print quality was excellent - a very slight variation in colour from the preview, that only the most critical would notice, and could be down to my monitor anyway. My own photos of the actual product don't show the colour accurately. The photos show a close up of the texture, the back side of the case and the case as a stand."
-Gill
BUY THIS PRODUCT NOW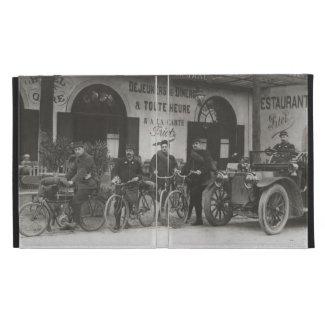 Vintage photo of French soldiers, car, motorbike iPad Folio Cover
by
Past_Impressions
See more product reviews
here
.