Sugar, spice and everything nice. Since this is what all little girls are made of, it's the perfect theme for a girl baby shower. The idea is so simple, but it is not really ever thought about when it comes to planning a girl's baby shower.
This blog is full of ideas for your sugar and spice themed baby shower and even offers ideas of gifts to bring if you're ever invited to a sugar and spice shower.
Sugar and Spice Baby Shower Invites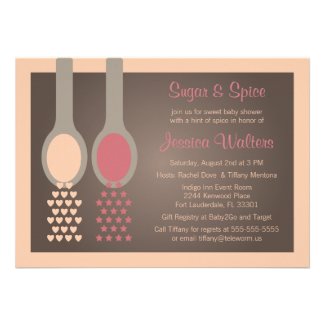 Sugar and Spice Baby Shower Invitations
by
youreinvited
Browse more sugar and spice baby shower invites
here
.
Sugar and Spice Themed Gift Ideas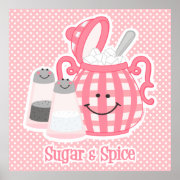 Food Ideas
:
Fruit salad.
Veggies and spicy hummus dip.
Sweet and spicy chicken wings.
Chips and salsa. (Hint: Serve a spicy salsa and a sweet salsa. Perhaps mango salsa?)
Dessert Ideas:
Drink Ideas:
Pink champagne.
Strawberry milk.
Pink lemonade.
Strawberry lemonade.
Raspberry lemonade.
Decor Ideas:
Candy bars! Cute, fun and trendy!!